cargo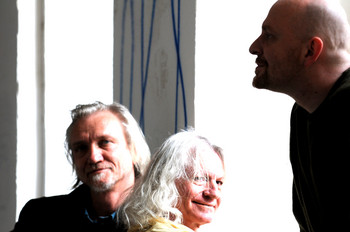 RUNDEK CARGO TRIO
Isabel, Dutso and Darko
Throughout his career Darko Rundek had never played with
bands of less than six members...not until 2009 that is,
when he decided to form a trio with the aim
of bringing his music closer to audiences through the intimacy
and transparency that this basic formation affords.

So ancient members of CARGO ORKESTAR violinist Isabel, multi-instrumentalist Dutso Vranić and Darko formed the Rundek Cargo Trio.

The twelve new songs released on their first album 2010,
BLUE AIRPLANE (PLAVI AVION), are the result of months
of tight collaboration.
Rehearsals and recording sessions took place on the beautiful
Istrian peninsula, on the northern Adriatic coast.

After the great success of "Blue Airplane" with critics and listeners alike,
preparation of the new album was a big chalenge and took a few years .
Finaly MOSTOVI ("Bridges") where released in June 2015, with 11 new
songs..Promotional concerts are on-the-go.
PARA LJUDE VARA

(1:50)

KURDISTAN

(3:02)
reviews
Aleksandar Dragas/Jutarnji list

Zagreb 30th of November.2010.


The majority of songs included on the melancholic but truly wonderful 'BLUE AIRPLANE' by the Rundek Cargo Trio (Rundek, Isabel, Dušan Vranić-Dutso) seem to fly over the nest of 'toms and strings' towards a better world.
But the sadness persists, because what might seem from our point of view like a bohemian life in the French capital, perhaps seems to Rundek like the clandestine wanderings of a Kurd in Paris: Suggestive images lead us from Trešnjevka place (Zagreb) over dark mountains and down to the troubled river Drina, from a lullaby with whisky and Chet Baker to a gig on the street, from life in exile to the dusk of capitalism.
But even if we don't understand all that Rundek is telling us in his recognisable theatrical style, always slightly under or over the melody's key, still we can, like those who don't understand croatian, enjoy the fascinatingly rich musical language which just three musicians squeeze out of their instruments.
And within that universal language which defies all barriers, there are all sorts of styles; from reggae, blues, jazz and folk-rock, to arabian and middle-eastern; with motifs from the Andes, to eastern Europe.
With all these influences 'BLUE AIRPLANE' remains authentic thanks to the calm and attentive way that the Cargo Trio develops the melodies and arrangements, sometimes with only accoustic guitar, violin, drums and accordion.
Despite a general feeling of chaos, pessimism and depression, Rundek is one of that rare breed who have kept the sense of existing.

Hrvoje Horvat/VIJESNIK
20th of December 2010

High-flying times

(concert of Rundek Cargo Trio in Tvornica/Zagreb 18th of December)


In the space of three hours Darko Rundek delivered one of his best concert versions ever, fascinating by the ambition and ease of performance of a highly complex program.

He also proved that as an experienced musician he is not afraid of risk taking, and whatever the concept may be he knows how to reach an audience and give them a top quality author's soirée.
Dušan Vranić is the key collaborator in charge of the sound of the band (he plays percussion, keyboards, samples, ukulele and accordion).
Isabel on violin fills the role of main soloist, and the use of sound processors significantly widens her sound spectrum; sometimes one would believe she is on electric guitar for example.
The streamlining of the band has reinforced the engagement of the Trio and opened the way to fine instrumental nuances that we couldn't hear in the Orkestar. Of course, each musician has to give more and be more concentrated than usual; but the ease with which it is done demonstrates that this concept is a natural progression of Rundek and his collaborators rather than the pretentious choice of an "artist". The songs from the new album with their intimate atmosphere and superb lyrics functioned impeccably before an audience of fans, but we were curious as to how the hit songs from earlier big band albums were going to function in the second part of the concert.
The result couldn't be better. Like Pete Townshend of the Who, Rundek passionately led the story on acoustic guitar and vocals. Well known old favourites like Ena, Ruke or Apocalypso appeared in a new and more direct form. The audience was immediately on its feet for a great party, undoubtedly richer than the coming New Year's feasts.
The Trio delivered the essence of every song, and even the most demanding and ambitious passages where done with pleasure and ease.