music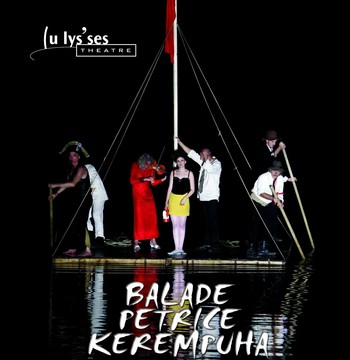 Balade Petrice Kerempuha
2008 - studio album
Menart, Zagreb
Actors and singers: Rade Šerbedžija, Maja Posavec, Mladen Vasary, Vili Matula, Damir Poljičak Musicians: Isabel - electric violin, effects; Darko Rundek - guitar, vocals; Peđa Gvozdić – bass, vocals; Ranko Purić – tambure; Đani Pervan – darbuka on 12 Recording studio: Rocco and partner, recorded by: Davor Rocco, mixed and adapted by: Darko Rundek
An album of songs and musical poetry from the show "Balade Petrice Kerempuha", directed by Rade Šerbedžija and Darko Rundek..

The show was produced last summer in the Brijuni festival at the Ulysses theatre in Croatia, and is based on poems written by Miroslav Krleža in 1936. The language is hybrid, based on the north Croatian dialect with strong Latin, German and Hungarian linguistic influences.
They sing of human suffering, persecution and social injustice, from the point of view of poor peasants, through Croatia's long history of oppression within the Austro-Hungarian Empire.
Petrica Kerempuh is their satyric bard.
Darko Rundek co-directed the show, and together with Isabel and other musicians and actors, created music ranging from folk to psychodelic.
1
Sanoborska

(2:31)

2
Komendrijaši

(8:22)

3
Komendrijaši

(2:25)

4
Komendrijaši

(2:32)

5
Kalendarska

(3:42)

6
Lamentacija o Štibri

(2:16)

7
Krava na orehu

(00:32)

8
Kevenhiler

(3:08)

9
Keglovichiana

(2:23)

10
Keglovichiana

(2:35)

11
Keglovichiana

(2:15)

12
Keglovichiana

(2:07)

13
Na mukah

(3:55)

14
Gumbelijum roža

(3:02)

15
Sectio anatomica

(2:33)

16
Planetarium - Vešča

(2:37)

17
Planetarium - Daljine meglene i kalne

(2:09)

18
Planetarium - Tristotin banov

(4:50)

19
Planetarium - Lepa naša

(1:42)

20
Planetarium - Vreni mili naši

(2:20)

21
Goreči črleni mak

(3:23)

22
Epilog

(1:18)
reviews
Vjesnik, 12.7.2008, Zagreb, Croatie, H. Horvat

It is rare that theatre music arrives in CD form, but this recent publication is justified because of its unity, not to say that the signature is that of Darko Rundek and his friends. Charmingly «untidy», these 22 miniatures were recorded and lead us through the music of the performance at the Ullysses Theatre. After all the encounters in ethno music territory, with Haustor and throughout his solo career, «Ballads of Petrica Kerempuh» takes Rundek into folk territory, with accoustic guitar and violin ornaments, and spoken extracts mingled with the 22 songs from the show. Its hard core dialect flows all around; and the «peasant» style of the whole performance corresponds with the text and goes with Krleža's poetry. In «Ballads» he invented his own language from Latin, Hungarian, German, Croatian and Italian, and it is perhaps the clash between complicated intelectualism and simple popular presentation which makes the «Ballads» CD unique, and such extraordinary listening.